Summer Sketchbook Gallery
Welcome to our Sketchbook Gallery. Each week over the summer we've asked members to share their sketchbooks. For those who would like more structure we've offered optional weekly themes.
Week 1 – everyday objects
Week 2 – plant life
Week 3 – an interesting structure
Week 4 – food focus
Week 5 – home
Week 6 – wishful thinking
Week 7 -another living being
Week 8 – view from my window
Week 9 – my day
Week 10 – Something Special to me (final subject)
---
Your Sketchbooks
Summer Sketchbook Challenge Winner
Thank you to Joan Lee for a variety of sketchbook entries.
The first – Moon daisies and poppies along the River Itchen was done from a photo Joan took on an early Sunday morning walk around Winchester last weekend. She's worked mainly in acrylic ink and watercolour to produce this lovely sketch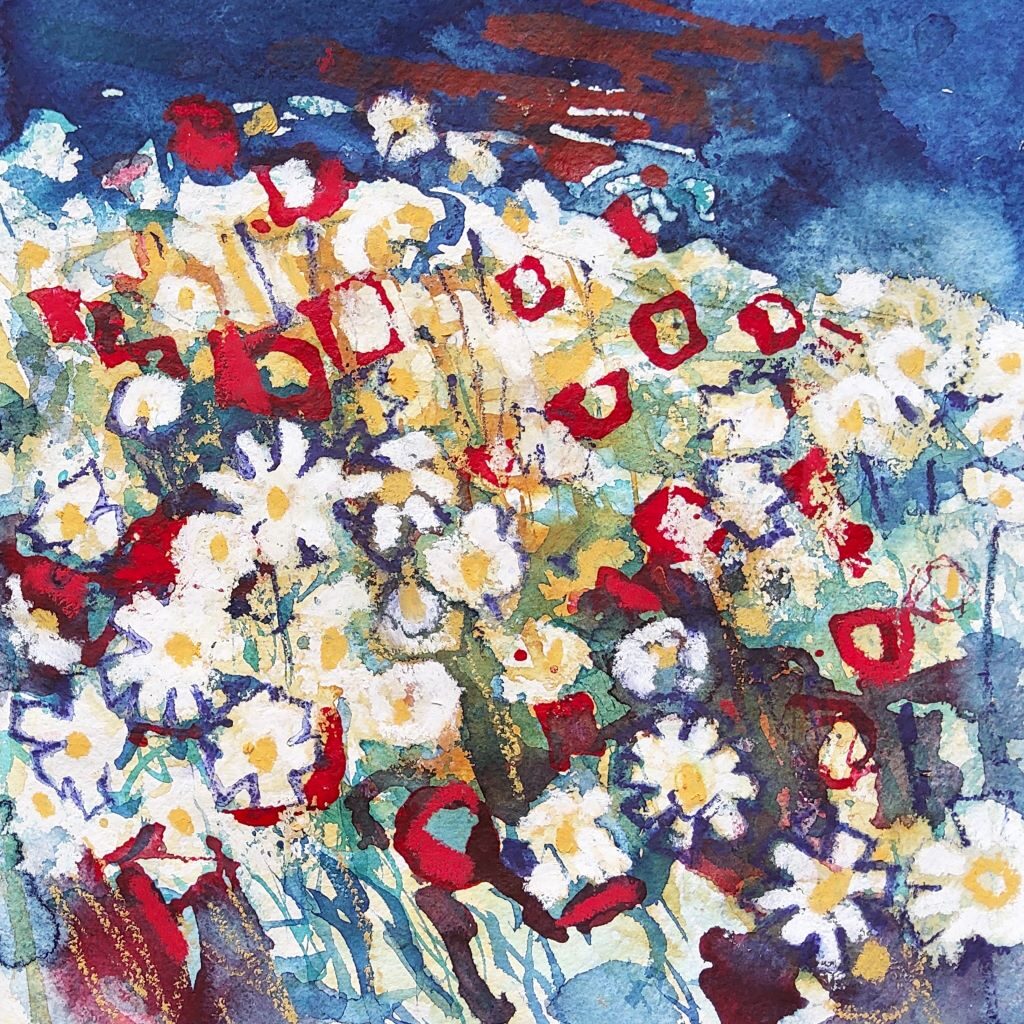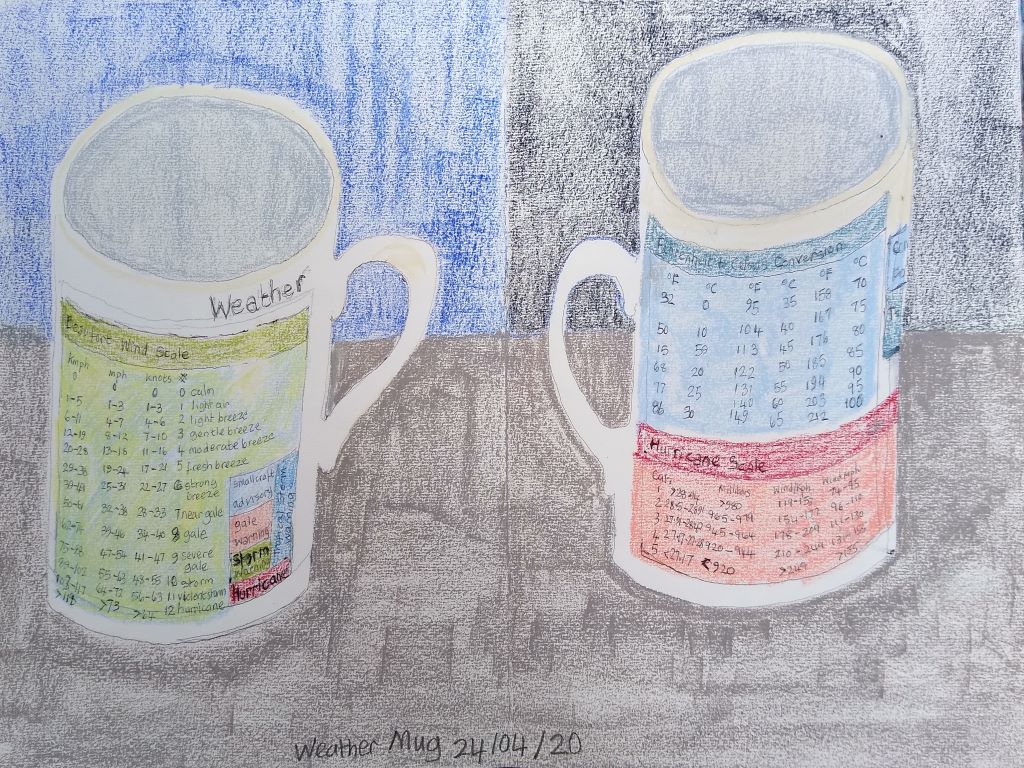 The second is a favourite mug – mainly Neocolor II pastel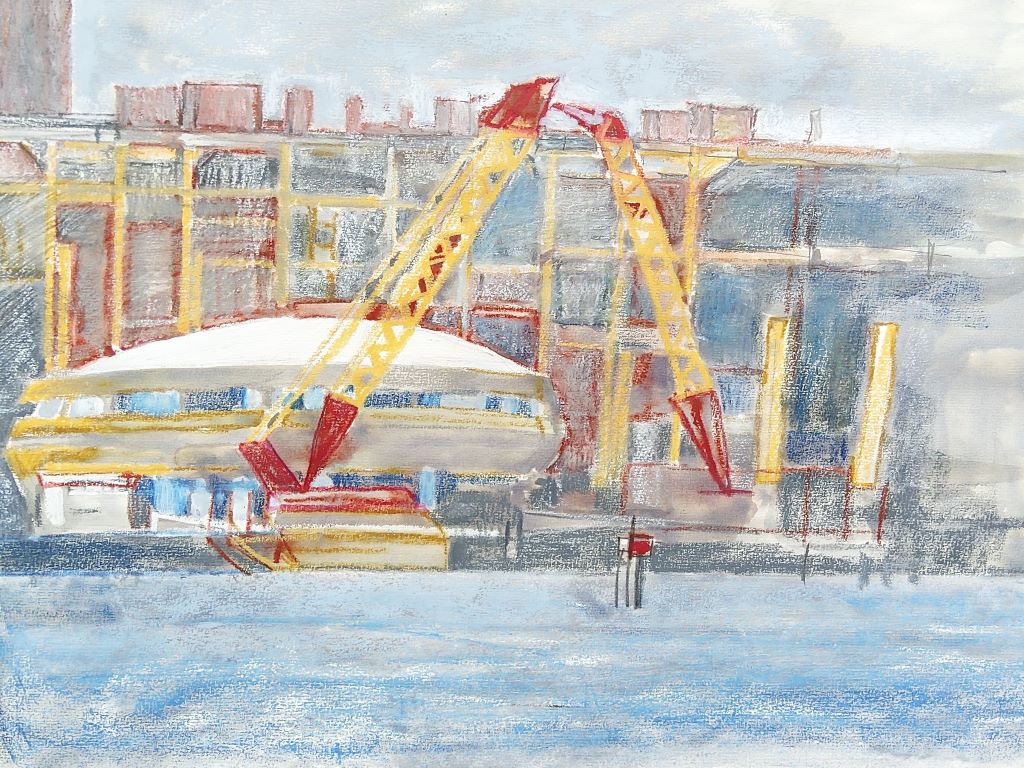 Week 3 – An intesting structure. Joan has sketched the control tower and cranes with the power stations, after the turbine hall was demolished in the background using diluted Quink ink and oil pastel.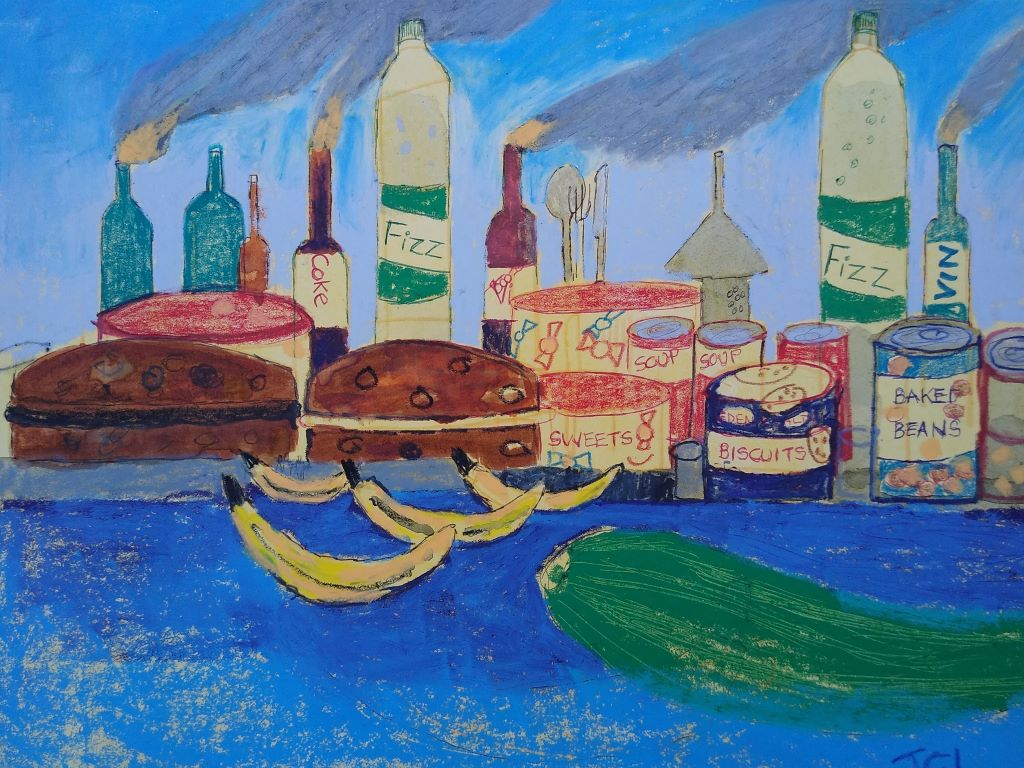 Week 4 – Food focus. Possibly inspired by Giuseppe Arcimboldo? Joan has sketched Fawley refinery featuring various food, drinks and kitchen utensils standing in for teh buildings, along with passing fruit and veg boat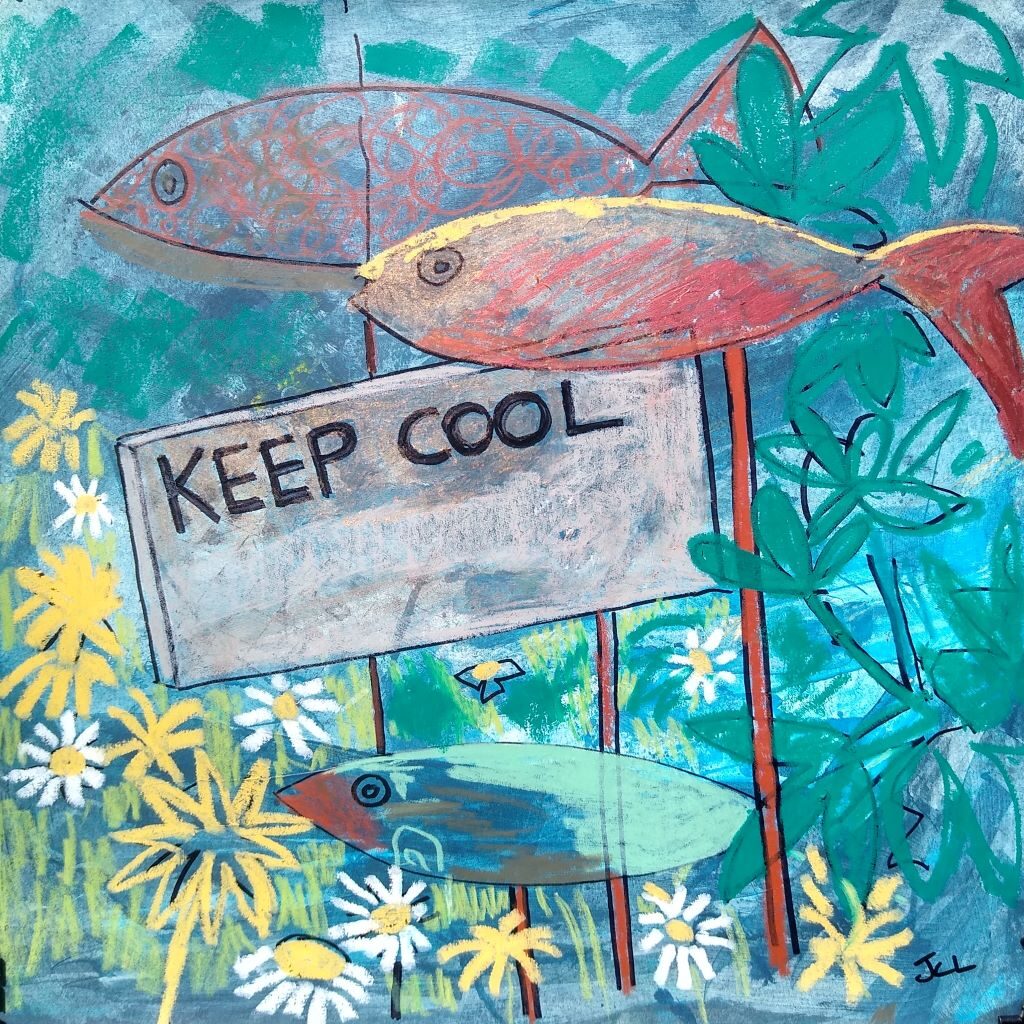 Week 5 – home. The fishes are in a corner of our gardent. They were metalwork created by Mike Savage, bought at several exhibitions a few years ago. I now also have hangings of various objects found on beaches, including the piece of wood picked up from the shore near Hamble Point at the beginning of March. It was likely a sign washed off something during the winter storms. I've just included the "Keep Cool" for hot weather!
Summer Sketchbook Challenge Runner Up
Three more sketchbook drawings, this time from one of our new members – Barbara Wright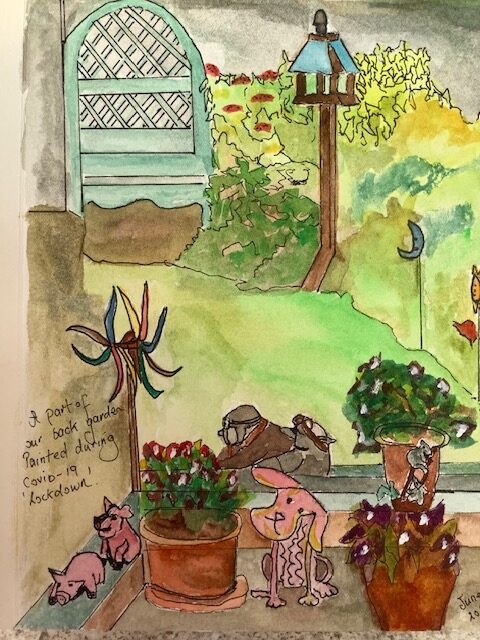 Barbara has followed two of our themes, by sharing both the plant life and structures in her garden. She says (due to lockdown) 'No I haven't been to the Trevi Fountain in Rome, but the Mall Galleries organised a live webcam of the Trevi which was interesting to draw!'.
What a great idea!
Sketches from our members
Ros Croft has shared a selection of her summer sketching with us
Susan Barton has been aboard a virtual sketchbook cruise!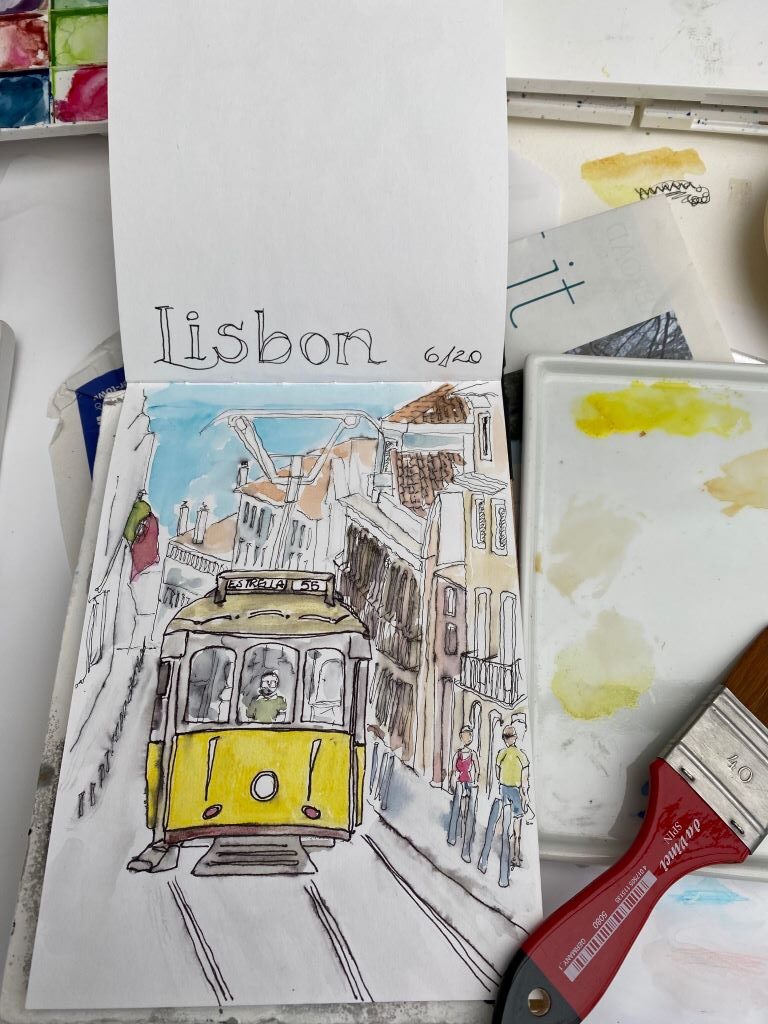 As a member of Southampton Urban Sketchers FaceBook group we would normally meet up once a month and sketch together but this hasn't been possible because of lockdown.
So instead we've all been aboard a virtual cruise that's stopped somewhere different every 2 weeks. It's been great fun to adapt to the challenge of being a virtual group.
Here are some of my sketches.
Karen Morton has been sketching her garden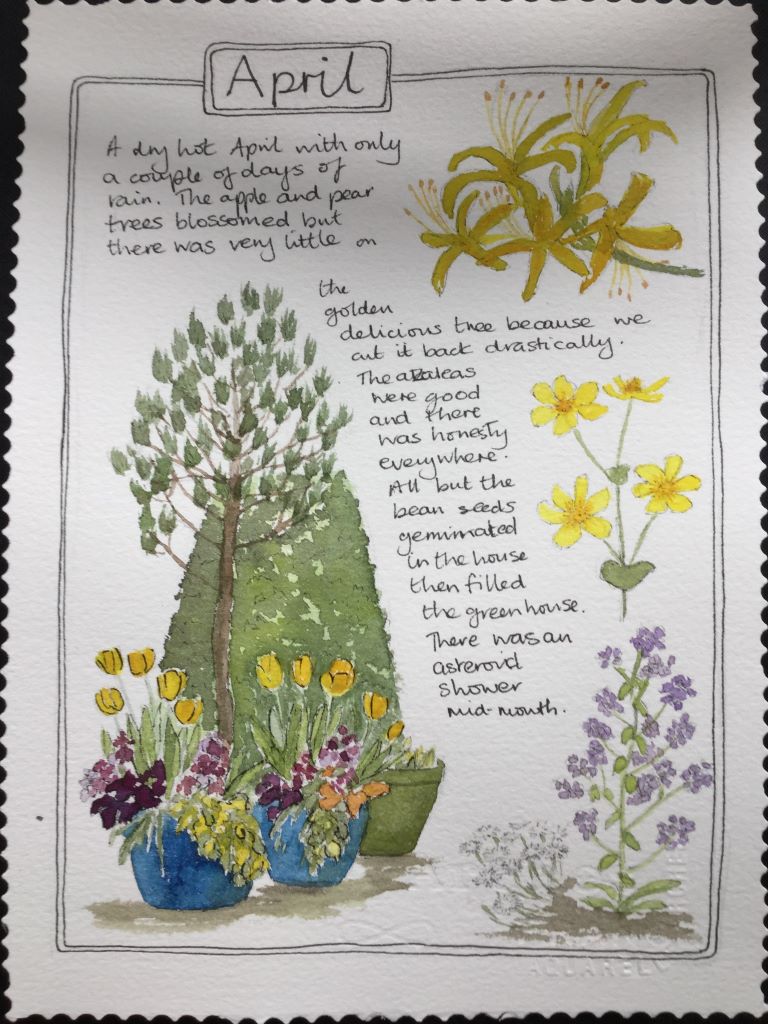 I started a garden diary back in October 2018 Having taken the idea from a painting magazine.

Every month I do a pen and wash painting of whatever is in my garden, trying to show the variety of flowers and veg and a different aspect of the garden.

I have really enjoyed doing this . It has made me look at flowers very carefully and is a super reminder of what I've grown.
I write a little commentary about the weather and what has grown well etc.

I shall continue until September when I will have completed two years ….and the book will be full!!
Some autumn sketches from Ros Croft