Those of you who have been members of the group for a while will know that from time to time we join together to create a group painting.
Whilst we are still unable to meet up, we have to consider what is achievable as an art group in the current circumstances. Whilst our face to face events have been put on hold, we can still share our enjoyment of art through this website. With that in mind we are launching our 2021 Group Painting Project.
We'll do this by choosing a famous painting and dividing it into sections. Each member participating in the project is given a section and asked to recreate that section in the medium of their choice. When all the paintings are done, we piece them together/ to create one large painting – see some of our previous project examples.
We asked members to vote for their favourite painting giving them a choice of four famous works. Garrowby Hill by David Hockney was their favourite, polling over 60% of the votes.
Almost 50 members decided they would like to take part, and their piece of the puzzle was mailed out to them at the end of January.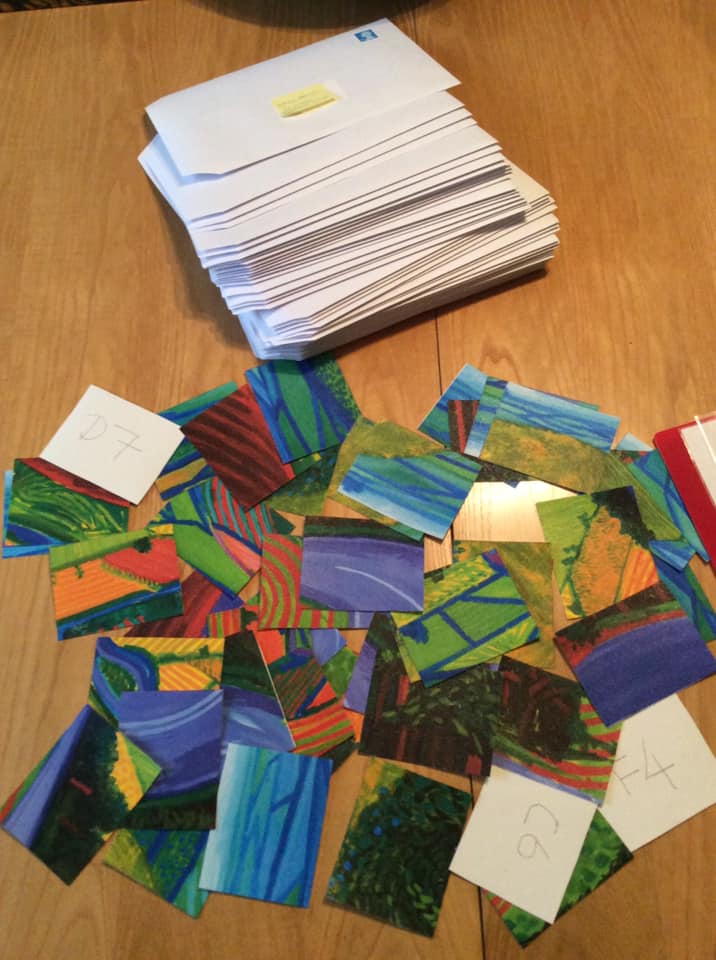 Each member was sent a piece of the puzzle with a reference number on the back and instructions on how to grid up their paper and replicate their rectangle of the painting.
Find your rectangle using this grid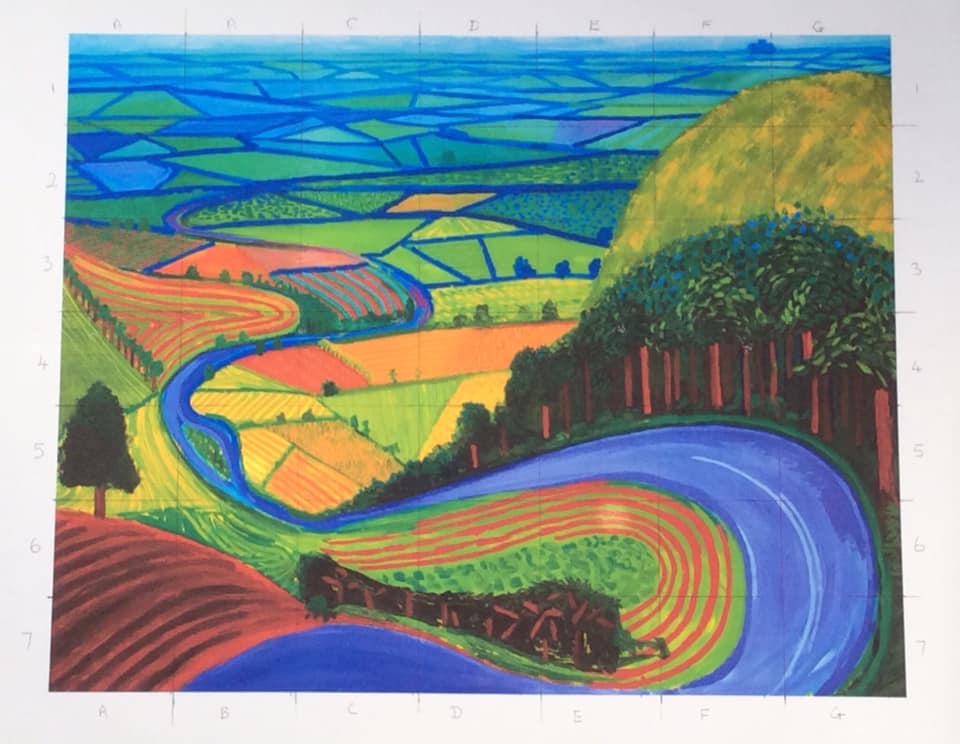 Hints & Tips to get you started
You will need:
A pencil and a ruler
Good quality sturdy watercolour paper (eg 140lb) or oil or acrylic paper
Your coloured medium (eg: paints, inks etc)
Your rectangle of the painting that was posted out to you to replicate
Important things to know:
You can work in any bright coloured medium of your choice
Please work on sturdy paper so that your painting is robust and can be glued onto the board for the main project. Use high grade watercolour paper, acrylic paper, or oil painting paper to suit your medium.
Your paper should be 20cm wide and 14 cm tall – (landscape format )
It's important that your measurement is accurate so that the painting fits together. It will also fit into the envelope provided to send it back without folding.
You must paint right up to the edge of your paper so that everyones contributions can be joined together without any visible seams.
Instructions
Start by measuring your paper and cutting it to size so that you have a piece that is 20 centimeters wide and 14 centimeters tall. You will be painting in landscape format.
It's a good idea to grid up your paper before you start drawing. It's really important to align proportions to ensure any lines which cross the edges of your rectangle meet up with the ones around it.
Scale up your painting to match your rectangle . For example – if you divide your painting into a grid of 12 equal boxes, you must also grid up your piece of the painting into 12 boxes. Ensure that you align proportions so that the edges will match up with surrounding pieces of the bigger painting.
Draw out your image onto your paper, lining up all the marks and edges to match your piece of the painting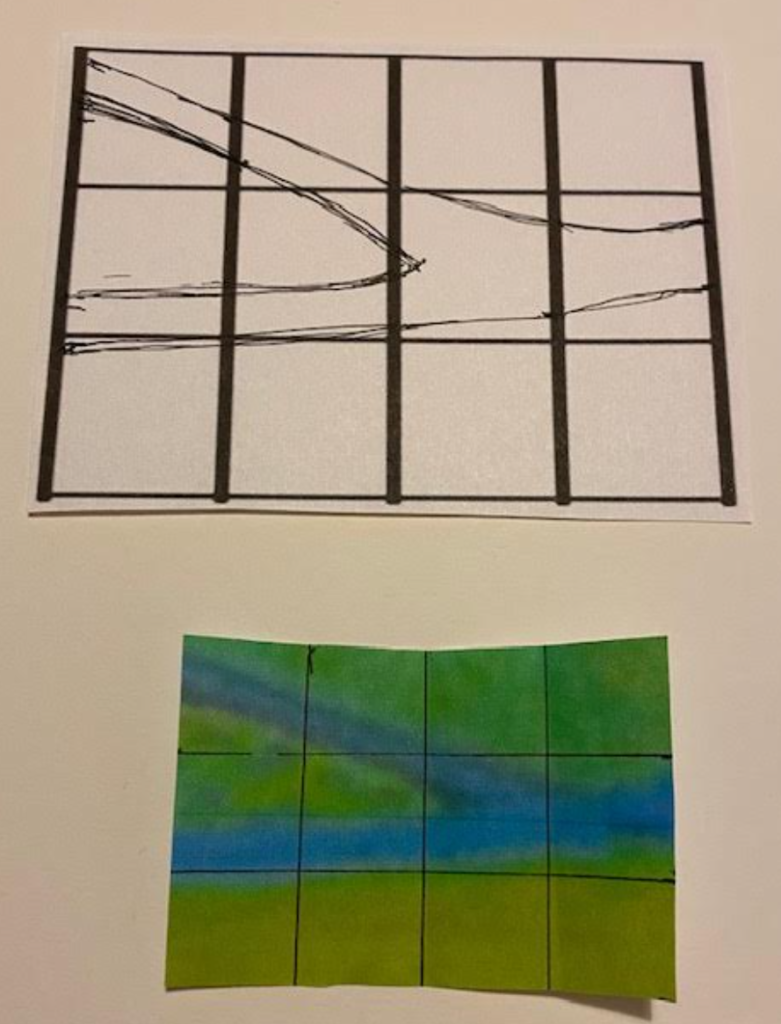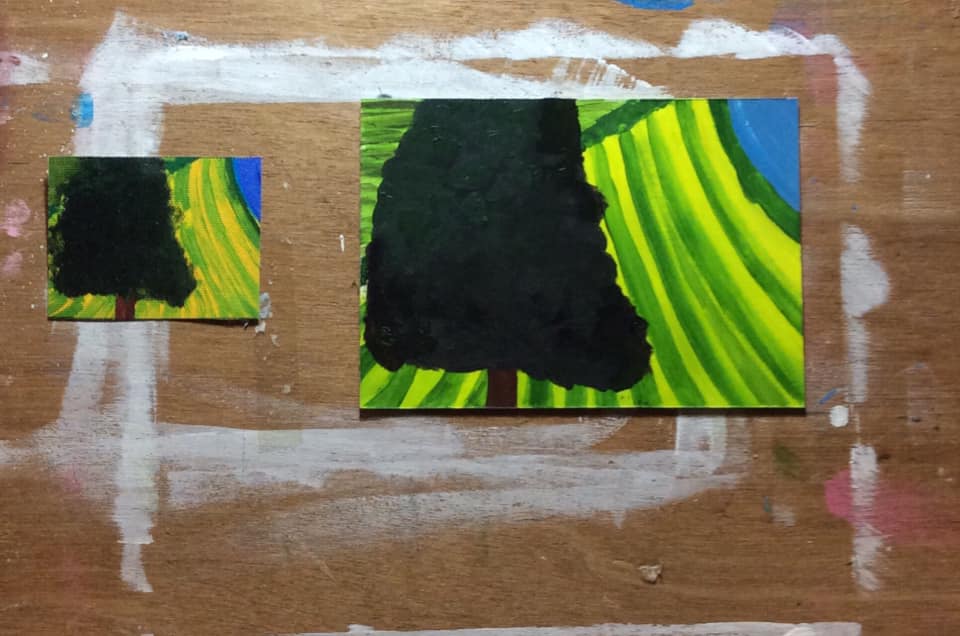 Paint in any medium of your choice – matching your paint colour to that on the rectangle you are replicating.
…And Finally
Send your finished rectangle to Mark Davies in the envelope provided. Please do not to fold your painting. Please complete and send your painting by 28 February 2021.
Follow our progress on the group facebook page. If you don't use facebook you can also follow the progress on the homepage of this site using our facebook window.
Our project – from start to finish…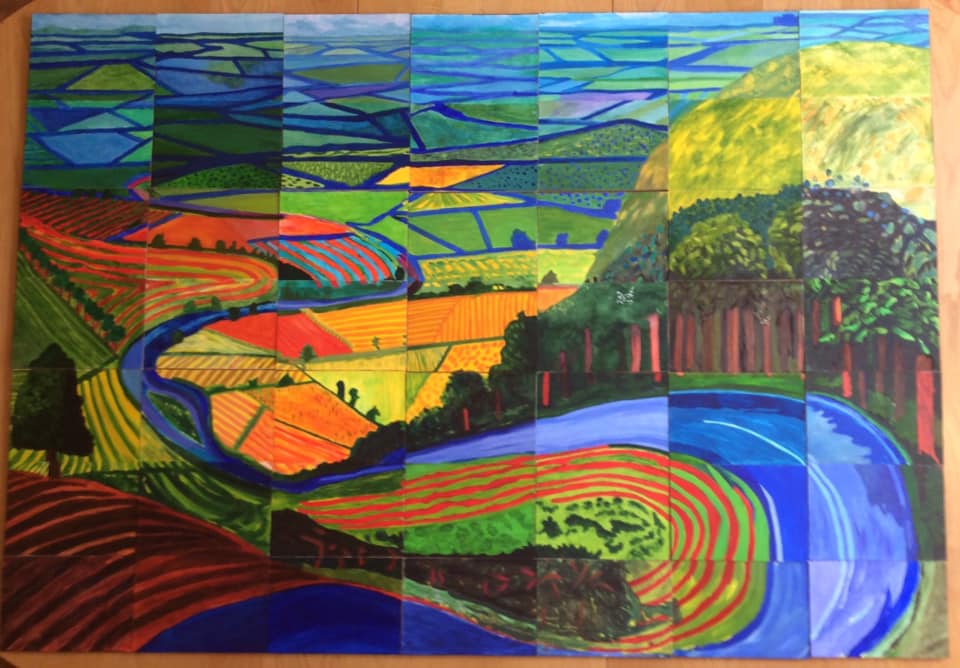 The completed collage of 49 individual pieces