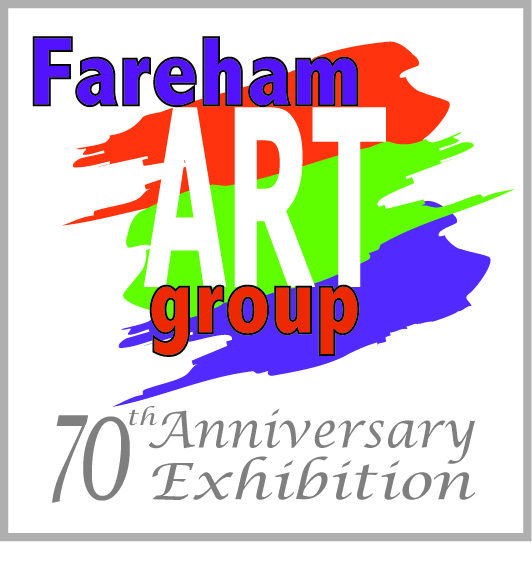 Fareham Art Group holds an annual exhibition to celebrate the artistic achievements of its members throughout the year. The exhibition is usually held in the autumn.
Fareham Art Group Spectacular 70th Anniversary Art and Craft Exhibiton
Fareham art group is proud to announce initial details of our forthcoming exhibiton
As we continue to plan for our 70th Anniversary Art and Craft Exhibition in October 2021, we have already made many of the basic decisions. We we want to share these with you at this early stage. Some of course will require further detail and we will be confirming these in the next couple of months.
Exhibition times
| | |
| --- | --- |
| Friday 29 October 2021 | Set up and hand in of pictures from 2.15pm until 4.30pm |
| Friday 29 October 2021 | PREVIEW EVENING for members and invited guests – 7pm until 9pm |
| Saturday 30 October 2021 | Event open to the public – 10am until 4.30pm |
| Sunday 31 October 2021 | Event open to the public – 10am until 4pm |
| Sunday 31 October 2021 | Collection of exhibits – 4pm until 6pm |
Preview Evening and New Awards
The preview evening will continue to be free to members and their invited guests. Two tickets will be sent to each member. Members can request extra invitation tickets to the preview evening from the Exhibition sub-committee. We will be offering members and guests refreshments.
As in previous years we have invited the Mayor to open the exhibition at the preview evening and make the Mayors choice of her favourite picture. In addition we are inviting a professional artist to also come on the preview evening and select a minimum of three Fareham Art group members' exhibits. These will be awarded vouchers of £15, £10, and £5.
Exhibiting
This year members will be able to apply to exhibit 5 hung pictures, 5 portfolio items , 5 miniatures, 5 craft items and 20 greetings cards. We will exhibit as many as possible. We have more space this year but reserve the right to reduce the number in each category according availability of space.
Individual craft items will be displayed together in a Fareham Art Group shared craft space.
Lots more details about exhibiting are still to be decided.
Fees for Entries
The following fees apply to each entry:
Hung Pictures – each £2.00
Portfolio items – each £1.00
Miniature pictures each £1.00
Craft entries in the Fareham Art Group Craft Area of mixed exhibits – each £1.00
Cards – £1.00 for up to a maximum of 20 cards
Commission at 15% is charged on sales of paintings and craft items.
Picture Delivery and Collection
Pictures can be delivered between 2.30p.m and 4.30p.m. on Friday and can be collected between 4.00p.m. and 6.45p.m on the Sunday. It is still our intention to arrange for members to deliver pictures in the weeks before the exhibition and collect in the week after, if they are unable to meet the above times. More details to follow.
Craft Fair
Running alongside the Fareham Art Group members exhibition will be the craft fair. We have room for 17 crafters and these spaces will be available to both members and non-members. These will be available at £30 per 6ft table. Items offered for sale must be crafted by the seller. The crafters will be selected to ensure a range of different types of craft. This will be done by the Exhibition sub-committee. Dates for application will be advertised later and subject to the above limitation will be on a first come, first served basis.
Crafters will be expected to be set up for the preview evening and have the appropriate public liability insurance.
Fundraising
There will be two fundraising activities. There will be a Fareham Art Group sales table for any donated items from members and others. There will also be a tombola. Proceeds from these will be used to meet exhibition costs
Biography Album
There will be an opportunity for exhibitors to put a short one page biography into a shared album for visitors to view and from which they can take contact details for later use.
Refreshments
As well as the main hall we we have the use of a kitchen and bar area and will be offering refreshments on the Saturday and Sunday
Contact us
Questions about our forthcoming exhibition should be sent to exhibitionsfarehamartgroup@gmail.com